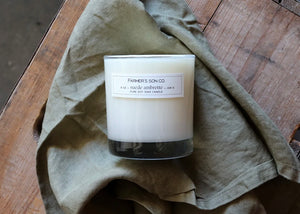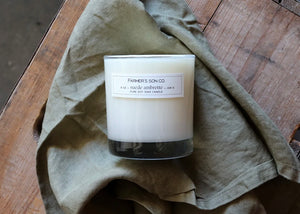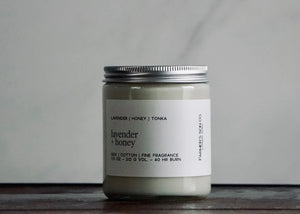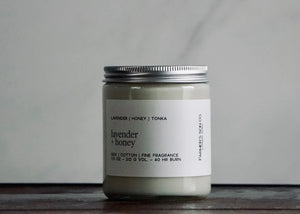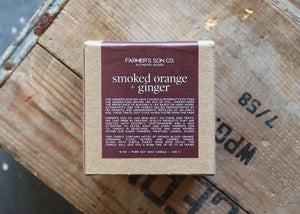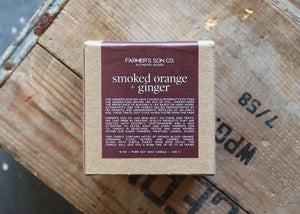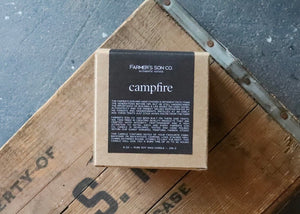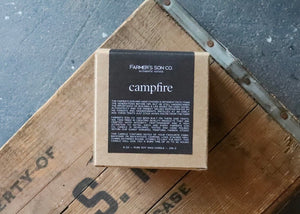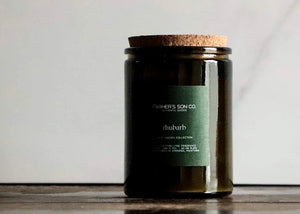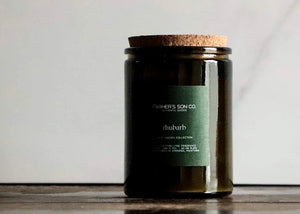 On Sale
Farmer's Son Co. Candles
Choose from our stocked collection of Farmer's Son Co. candles!  
Campfire
TOP NOTES: Smoked Woods, Fir Needles
MIDDLE NOTES: Cedar, Fir, Pine
BASE NOTES: Birch Tar 
This is the perfect scent to give you that warm glow and distinct fragrance of a prairie campfire when you're snuggled up at home missing your favourite spot. Close your eyes and let your mind wander to your favourite cabin, fireplace or campsite and you've got the Farmer's Son Co. signature Campfire candle. 

Lavender + Honey

TOP NOTES: Jasmine, Honey
MIDDLE NOTES: Rose, Ylang-Ylang, Orange Blossom, Lavender
BASE NOTES: Tonka, Vanilla
The herbaceous notes of French lavender instantly bring a sense of calm and relaxation while the honey brings a touch of sweetness and gentle floral glow that are sure to uplift. 
Suede Ambrette
TOP NOTES: Fig, Bergamot, Cassis, Black Peppercorn
MIDDLE NOTES: Cedarwood, Clove, Tobacco Leaves, Lavender, Jasmine
BASE NOTES: Smoky Accord, Sandalwood, Leather, Black Amber, Patchouli, Oak Moss, Musk Mallow
Intense, cozy, spicy, warm and animalic. The rich smoky scent of suede and leather balanced with soft sweet musks and warming spices. Sophisticated from the get go, this fragrance starts out soft but finishes grounded and steadfast.
Rhubarb
TOP NOTES: Rhubarb, Grapefruit
MIDDLE NOTE: Wild Rose
BASE NOTES: Santal Accord, Vetiver
This take on Rhubarb features notes of fresh cut rhubarb, wild prairie rose, santal, grapefruit and vetiver. Tart and fresh, with a slight musk and dryness. 
Smoked Orange + Ginger
TOP NOTES: Orange, Ginger
MIDDLE NOTES: Lavender, Violet, Cardamom
BASE NOTES: Cashmere, Sandalwood, Musk
A unique blend of smoked blood orange, notes of cinnamon, clove, nutmeg and candied ginger with notes of candied ginger and just a hint of sweet musk. Warm, slightly smoky, sweet and citrusy, with those sharp notes of ginger coming alive with each light.
All candles are crafted with 100% soy wax, fine perfume fragrance and cotton core wicks. Poured in our 8oz lowball tumbers with minimalist label. Your candle has been wrapped in recyclable tissue paper and housed in a 100% recycled kraft cardboard box featuring an art paper Farmer's Son Co. label.

This candle will give you 50 hours of burn-time enjoyment with proper care.