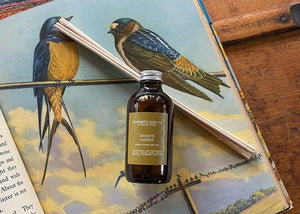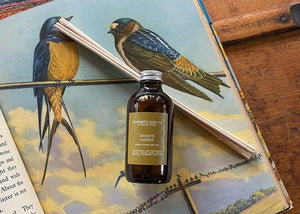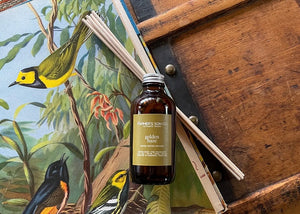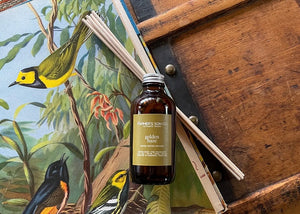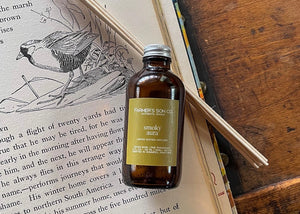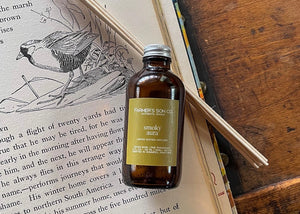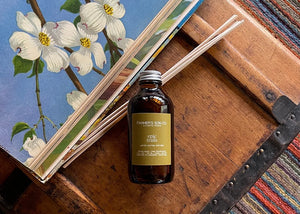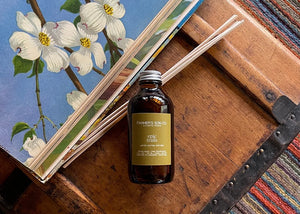 On Sale
Farmer's Son Co. Reed Diffusers
Smoky Aura
TOP NOTES: Citrus, Apple, White Pepper, Saffron
MIDDLE NOTES: Siberian Fir, Lavender, Eucalyptus, Cedarwood, Clove, Tobacco Leaves, Cade
BASE NOTES: Patchouli, Tonka, Sandalwood, Guaiacwood, Vanilla
The fragrant glow of burning wood, the deep breaths of nature, the sound of leaves rustling in the wind coming together to make an unforgettable experience. It's a reminder of summer days soaking in the beauty of the lakes, forests and winding trails that have become our second home.
Epic Trails
TOP NOTES: Citrus, Dew, Green Leaf Accord, Ozone
MIDDLE NOTES: Lavender, Greens, Herbs, Black Pepper, Patchouli, Pine, Fir, Sweet Grass
BASE NOTES: Black Pepper, Patchouli, Vanilla, White Musk, Cedar, Earth, Salt
The sun begins to peek through the clouds as early morning light casts its tapestry of colours on the landscape. You find yourself savouring the unique mix of pine, grasses and the fresh morning dew in the air while exploring on Manitoba's epic trails.
Unseen Sunset
TOP NOTES: Clove, Peppercorn, Coconut Milk
MIDDLE NOTES: Violet Leaf, White Sage, Muguet (Lily of the Valley), Iris, Incense
BASE NOTES: Worn Leather, Cashmere, Sandalwood, Amber, Palo Santo, Oak Moss, Musk
Another day is coming to an end. The sun slowly begins to dip below the horizon, painting the sky before us in a vibrant array of reds, oranges and yellow. The colours swirl like paint on a canvas. It's the last natural light of the day, the most beautiful of sunsets- an opportunity for anyone to pause and admire the simple beauty that's offered up so freely.
Golden Haze
TOP NOTES: Rosemary, Apple
MIDDLE NOTES: Wild Rose, Jasmine, Orchid
BASE NOTES: Oud, Cedarwood, Vanilla, Ambrette, Olibanum, Patchouli, Musk
As summer draws to a close, a golden haze begins to linger in the air, slowly signaling the approaching era of autumn while also reminding us, that yes, summer is beginning to slip away.