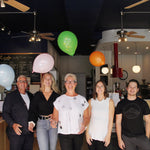 Cornelia Bean is 15 years old! For all of our new customers, and for all of our regular ones who may have forgotten, Cornelia Bean's 15th birthday just passed and we want to share a bit of our story and what we have planned for the next 15 years.
Just like its tea, the Cornelia Bean store is steeped in rich history. Cory and Bob Krul opened the store in 2004 with the name and legacy of Cory's grandmother behind them. Cornelia Boon (1899-1934), Cory's grandmother and namesake, was born in Broek op Langedijk, a small town north of Amsterdam, the Netherlands, and lived a short but full life until her untimely passing after battling with multiple sclerosis. 
Cory has carried on her legacy in Canada and follows the same principles in family, friends and fellowship with a cup of the best. Opening a tea and coffee shop is in Cory's blood! Boon in Dutch means Bean and so it was an obvious choice to offer coffee, and then of course, tea. Seeing a gap in the Canadian market for high-quality specialty tea and coffee, Cory and Bob embarked on international travel and training to bring tea and coffee to the Winnipeg market. Travelling in India for Bob and training for Cory as a tea sommelier were the first steps towards opening the store. Since then, Cornelia Bean has become a leader in retail and wholesale tea and coffee sales with products available all over the city and North America. 
Cornelia Bean has also expanded its reach nationally and globally. We have always been known for our custom blending and now all of our teas are shipped around the globe, with Manitoba Rooibos becoming an international favourite. Cory and her team have scoured Canadian markets for unique coffee roasters in order to support local and Canadian and we now have a range of Canadian roasters on regular rotation in the store. We have expanded our holiday gift options to offer a new substantial gift box that would be an excellent and luxurious option for corporate gifting. We also always love crafting custom gift baskets for the holidays and other special occasions. We also have a variety of flights of teas, including our favourites and we have expanded on these for the holiday seasons with festive tea blends.
While Cornelia Bean has one foot firmly in its history, the store is also looking towards the future. Over the last few years, we have committed to reducing our environmental footprint. Some changes include offering customers the opportunity to bring in their own clean containers to buy bulk tea and offering porcelain cups and the Wall cup at the newly redesigned in-store coffee bar. Another example of the focus on environmental sustainability and of being a family business - the Wall cup is a zero waste option for steeping tea. Bob Krul designed the cup, which went on to win Best Innovative Product at the 2016 World Tea Expo. Bob is also the designer of the Brewt tea and coffee maker, another zero waste product ahead of its time. Boreal Wildcraft Tea Company, Bob's latest venture, focuses on sustainably harvesting the bounty of the Boreal forest and works cooperatively with local wild crafters, hand picking and processing special herbs and berries in an ethical and sustainable manner to minimize our carbon footprint. The result is exquisite, earth-conscious, custom-blended herbal infusions with a distinctly Canadian flavour. 
Over the last 15 years, Cornelia Bean has remained a family affair. Cory and Bob, partners in business and love, have three children and a daughter-in-law that are either actively working at the store or have been involved in significant roles in the past. They have also felt like family members to their staff. And the next generation of Cornelia Bean employees will be arriving in a few short months…!
Another constant over the past 15 years has been the support of our customers and neighbourhood. We are so grateful for all of the customers who have been regulars since the beginning, those one-time visitors, and everyone else who walks through the door! We can't wait to continue being your spot for the best tea and coffee in the world!