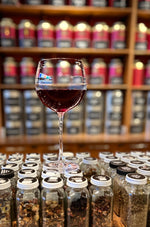 Reframing your relationship with alcohol is a hot topic in the media these days.  Understanding the science and taking heed to the recommendations can go a long way on your wellness journey. Cornelia Bean looks to provide alternatives to classic alcoholic beverages that are delicious, and when served in the glassware conducive to wine or a highball, are very satisfying.
Below is a list a number of teas to consider, that can be brewed and chilled.  Simply done in the Filter-in-Bottle .
Big bold flavour: try Moody Manitoba, Lake of the Woods, Wildberry Cocktail, Sea Buckthorn Elderberry, Winnipeg Beach, Frosted Berries, or Raspberry Lemonade.
Medium Body: try Victoria Beach, Raspberry Renegade, Raspberry Drop, or Pomegranate Raspberry Moringa.
Light Body: try Strawberry Champagne, True North, Prickly Pear, Pear Garden Black Current, Bitter Lemon, and Gin and Tonic.