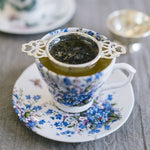 You can feel spring in the air these days – days are growing longer, rays of sunshine are warming the ground, and birds are singing their cheery songs. Whether you are an expert tea lover or new to the world of tea, spring also means the arrival of First Flush Darjeeling teas. This prized tea, with its exquisitely delicate taste and bright colour, is known as the "champagne of teas". Its arrival is a sign that we have survived yet another winter and you can taste the freshness and hope of spring in its gentle floral aroma and bright golden cup.
The Darjeeling region of India rests at the steps of the Himalayan mountain range and is one of the few tea growing areas that experiences distinct seasons. With the end of the harsh winter comes the first tea leaf shoots and a celebration of warm days to come. The First Flush is the picking of the brand new two leaves and a bud in the earliest spring growth of the plant, often harvested in mid-March following spring rains through until April. This tea is prized and more expensive because it is hand-picked within a short timespan and in a region known for its inaccessibility. These tender handpicked new leaves and a bud are less oxidized during processing in order to retain their green and fresh flavour.
As First Flush Darjeeling is less oxidized, it appears more greenish compared to a typical black tea. We recommend brewing the First Flush in slightly cooler temperatures (180 to 20 degrees Fahrenheit) for 2 to 3 minutes. First Flush Darjeeling is so exquisite that we recommend enjoying it without any milk or sugar so you can truly taste the freshest spring leaves.
We have received our First Flush from the Margaret's Hope estate in Darjeeling, just in time for this beautiful spring weather. We invite you into Cornelia Bean to celebrate the first sips of spring! 
-

Photography: Pauline Boldt