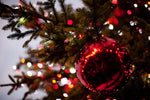 'Tis the season for giving and sharing. As we open our hearts and homes, why not let our gifts be just as warm and cozy with the gift of tea and coffee? This year, we introduce new tastes in tea such as the delicious S'more and the peppery Naughty Gingerbread Man. We've also brought back the tried and true Candy Cane and Black Forest. There is more variety than ever and it all comes packaged beautifully in our white snowflake tin.
For coffee, we continue to offer our fantastic selection of craft roasted coffee as well as our annual treat of Peets Coffee from Seattle. Starting November 15, we will have Peets Italian Roast, which is the darkest offering of coffee with a taste, second to none; robust and delicious. We also offer Peets Holiday Blend which is aways a treat. We confidently recommend our own Private Reserve Blend, a medium dark roast and full body, to all. It is our best selling coffee and continues to satisfy the most distinguished coffee connoisseur. 
This year, we will also be launching an exciting new gift box of tea for the holidays! The 12 Days of Cornelia gift box is our take on the 12 Days of Christmas. Starting with the Christmas Tea for Christmas Day, there are 12 teas that will take you into the new year with happiness and cheer. You'll get a taste of Strawberry Champagne for New Years Eve, and Detox in January just to name a few. The 12 Days of Cornelia gift box provides you with our best teas to sample. With enough tea for two included, it's a perfect gift for every tea lover on your list!