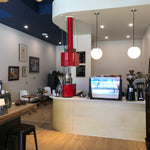 Cornelia Bean has always been more than just a spot to buy the tea and coffee you enjoy at home. However, with the recent major renovations, it is now an even more beautiful and welcoming place where you can sit and enjoy a tea or coffee that we make just for you! With the addition of our state-of-the-art espresso machine and equipment, plus new coffee blends arriving daily, Cornelia Bean is now a place to invite a friend to share a hot drink with or sit and relax on your own. We now have extended table seating indoors and a window front bar where you can sit and people-watch on Academy Road. Stop by to warm up and enjoy a drink this fall and winter and watch the world go by.
We always feature a daily coffee and daily hot tea. And if there's another tea you'd like to try that isn't our daily feature, we can brew up any of the teas on our bar.
Our classic menu includes:
Coffee (Hot or Iced)
Espresso
Americano
Latte
Cappuccino
Macchiato
Mocha
Hot cocoa
Cortado
The Cornelia - Sweetened condensed milk melted into our delicious espresso topped with steamed milk.
Tea (Hot or Iced)
Loose leaf tea - Try one of our 200+ loose leaf teas!
Chai Latte
London Fog – black or rooibos tea base and sweetened with vanilla syrup
Ceremonial Grade Matcha Latte
Turmeric Soother Tea Latte - with a touch of vanilla
We always love to try out new beverages. Have a favourite tea that you'd like to try as a latte? Let us know! We'd be happy to make it for you.