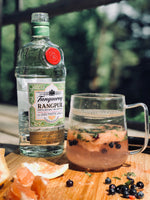 Looking to spice up your cocktail menu and impress your guests this summer?  Loose leaf teas are having a major moment on drink menus lately and it's easy to see why. With so many different tea varieties and blends to play with, you can be endlessly creative with mixing, blending and creating signature cocktails. Branching out to use teas in your cocktail recipes also means enjoying their subtler flavours and no added sugars. We have put together a short list of cocktail recipes below but would also encourage you to experiment with your own ideas this summer! We can also help recommend tea blends that would be a deliciously different base for your cocktail creations.
Gin Sunrise
Cold brew a batch of Sunrise Pink Grapefruit tea. Mix 1 oz. of tea with 1 oz. of gin. Add grapefruit slices, blueberries, and muddled basil. Serve over ice in The Wall Cup.
Fuzzy Peaches
Cold brew a batch of Juicy Peach tea. Mix 6 oz. cup of tea, 2 oz. of tonic water and 1 oz. of vodka and serve over ice.
Strawberry Rose Sangria
Cold brew a batch of Strawberry Champagne tea. In a large pitcher, mix 10 oz Strawberry Champagne iced tea with 10 oz rose wine, add 5oz Cointreau liquer. Garnish with lemon slices and berries as desired and pour over ice to serve.
Dark and Minty
Cold brew a batch of Lemon Black tea. Mix 4 oz. of tea, 4 oz. of Ginger Beer with 1 oz. of dark rum and muddled mint and lime. Serve over ice.
Miss Arnold Palmer
Cold brew a batch of brewed Lavender Earl Grey tea. Mix equal parts of iced lavender earl grey tea and lemonade and serve over ice.
Try using the Wall Cup when making these cocktails. Simply add your loose leaf tea, muddled fruit and herbs, top with ice and just *enjoy*. The Wall is perfect to enjoy the full flavour of your cocktails, while keeping all the tea and herbs away from your mouth.
Check out our past blog on brewing iced tea if you need a refresher on how to make the perfect iced tea. Experiment with serving sizes of tea and alcohol depending on your personal tastes and how strong you like your drinks!