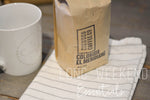 On one of the most anticipated weekends of the year and the unofficial kick off to summer, why abandon the luxury of making fresh tea and coffee? You don't have to leave your tea and coffee behind this May long weekend if you stop by Cornelia Bean on your way out of town or on your way to a luxurious picnic in the city!
For lake lovers, the Bodum French press and Hario hand grinder are ideal companions. Prepare the perfect cup by hand grinding freshly roasted beans and then using the classic French press for a delicious cup of coffee. We carry a range of French press sizes that are just the right size for one, a family, or having company. Tea drinkers will love the Wall tea infuser – available in 310mL or 440mL. No need to stress about remembering all your tea accessories for the lake when you have the Wall tea infuser. Simply add boiling water to your loose tea or herbs and that's all you'll need for a perfectly steeped cup. Plus, clean up is a breeze as you can throw the leaves and herbs in the bushes and then rinse out the cup with water. If you are making iced tea for a crowd, the Hario cold brew tea bottle is a stylish and simple way of brewing and serving iced teas. Relax on the dock with this healthy and refreshing treat, especially for children!
The weather is never a guarantee so if you will be camping or hiking this weekend, a Swell bottle will keep your water icy cold or your tea and coffee piping warm. You could also keep a Tea Traveller handy for brewing fresh loose leaf tea – with a built in strainer and BPA-free plastic exterior, all you will need to remember is the hot water. The Aeropress coffee filter is a dream for camping. With no fussy accessories, you can easily throw this durable gadget in your duffel bag or the back of the car and there is no worry of it breaking. It makes a perfect shot of espresso or add hot water for a strong and delicious cup of coffee. The Kalita or Phoenix 70 pour over systems are also perfectly suited to a camping trip or long hiking adventure.
The May long weekend can be celebrated in our beautiful city too. Take picnicking to the next level in Assiniboine Park or the Forks with a Bodum tea pitcher filled with refreshing and delicious iced tea. This pitcher is made of sturdy plastic and holds up to 3 litres for a long leisurely day under the sun. Once you've picked up your equipment for tea and coffee, don't forget to stock to up on teas from around the world or freshly roasted coffee.
Have a relaxing and wonderful holiday from all of us at Cornelia Bean! We'll be here all day Saturday, but closed Monday enjoying our own tea and coffee.