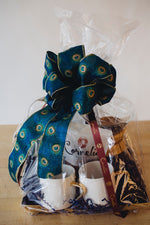 Looking for a beautiful gift idea? There is something special about putting together a gift basket for someone.  At Cornelia Bean we take a personal approach to gift giving and love to make them especially for you. Here are a few ideas to help you decide! Gift baskets are always a beautiful gift to give and receive!
Support local by letting us put together a collection of Manitoba products: 
We have an outstanding collection of loose leaf tea to offer and have gathered some beautiful ones in collections we lovingly call The Flight of Tea. So if you are looking for tea specific gifts, here are a couple suggestions for you.
OR
For the travel buff  
We love coffee aficionados too! Here are a couple ideas that are sure to impress:
OR  
Gift baskets are complimentarily wrapped, when over $100.00, with smaller gifts lovingly put into our signature gift bags on orders for pick up or delivery within city limits. All mail order items will be beautifully placed in a mail packing box and sent via expedited service.
Please take some time to peruse the website to select the items you would like included in your gift basket. Once in your cart, let us know at check-out in the comments section which items you would like to be wrapped up in the gift basket. You can also call us at 204-489-2542 or email us at info@corneliabean.com with your order. It's that simple!
We will attempt to have a 24 hour turnaround on all orders received via email and online.
Contact us today to create your customized gift basket for the holidays! We are happy to meet all your gift giving needs.