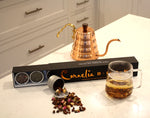 It's time to start planning for gifts to give to your employees, valued customers and clients for the holiday season.  Cornelia Bean has wonderful gift ideas, from tea and coffee to beautiful accessories. There certainly is something elegant about receiving or giving a gift basket or something special from Cornelia Bean.  We are especially excited about our new Cornelia Bean Collection Gift Boxes. This beautiful box is filled with six of Cornelia's favourite tea's.  But that's not all, because we are also preparing the Holiday Collection, as well as The Earl Grey Collection The Chai Collection, The Iced Tea Collection, The Oolong Collection, The Wellness Collection and an awesome Exquisite Collection (prices will vary per collection and will be posted shortly). We can also customize boxes for corporate orders as well! 
We love and support local businesses!  The Wall glass tea infuser (in left or right-handed), is designed in Manitoba and perfect for steeping all teas in the gift boxes!  As well we have locally roasted coffee, Coal and Canary candles, Mud and Stone pottery, and John Russell honey. We are also happy to custom blend teas and tisanes for your individual preferences.  We have affordable luxuries for everyone on your list.  Don't forget to use your Local Frequency points card!  We are one of many local retailors participating in this wonderful program. 
Gift baskets are complimentarily wrapped when over $100, with smaller gifts lovingly put into our signature gift bags on orders for pick up or delivery within city limits.
Discounts will apply for bulk orders and as usual orders over $100 have free shipping. 
To order please go online or send an email to info@corneliabean.com and we will be happy to make your holiday gift giving as easy as possible!