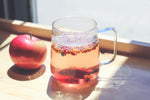 Take a deep breath. We are approaching the first full week of school. Once we get our minds in that space, it's time to think about restructuring routines, not to mention readjusting sleep patterns. There is no need to panic, Cornelia Bean is here to help.
There are a number of teas that can help you with focusing and mental stimulation. The first one that comes to mind is Matcha. This is a pure green tea from Japan. Matcha comes in concentrated form, capturing the value of five cups of green tea with just a 1 gram serving. There is a lovely energy provided to you as you metabolize the drink, and like all tea, the presence of L-Theanine provides you with a calm feeling as well.
Yerba Mate is a fantastic herbal tea to add to your repertoire. Found in South America, this herb provides you with energy as well as vitamins A, B1, B2, B3, B5, C and E, as well as calcium, iron magnesium and manganese. B vitamins have been found to change our food into fuel and give us energy throughout the day, while magnesium also provides the body with energy and helps to ease anxiety.
 Herbs such as Ginseng have been found to ease physical and mental stress as well as giving a soothing effect on the body. You can find this herb in our Awakening Tea and the Herbal Puerh. Another herb, Ginkgo, promotes circulation throughout the body, especially the brain which promotes memory and mental function, great for eager young minds and leaders of the future! Gingko can be found in our Fountain of Youth tea.
 Now for the teachers. Two months off and now back to a class full of children! This can be a hard transition and nerves can be high, and sleep can be affected. Cornelia Bean's Peace Tea can help. With herbs such as valerian and passionflower, this tea helps to ease anxiety and help with those sleepless nights.
When you're scrambling to get yourself and the kids out of the door in the mornings, making a cup of tea may not be on your radar, but we have the perfect solutions! We are loving The Wall tea infuser – available in 310mL or 440mL. Simply add boiling water to your loose tea or herbs and that's all you'll need for a perfectly steeped cup. Plus, clean up is a breeze as you can throw the leaves and herbs in the compost or garbage and then rinse out the cup with water. Easy!
Still don't have enough time? You could also use a Tea Traveller for brewing fresh loose leaf tea – with a built in strainer and BPA-free plastic exterior, it's great for families on the go.
 Instead of juices that can be very high in sugar, which can affect attention (hello day after Halloween), why not consider one of our delicious fruit teas iced! They taste as good as juice, are 100% natural, contain no artificial flavours or colours and there is no sugar added! But how would I keep it cold until lunch you ask? The Swell bottle is guaranteed to keep beverages cold for 24 hours, and hot beverages for 12 so no worries there!
So hopefully we have given you some ideas to help ease into the back to school routine. Come by and let one of our helpful staff get you set up with everything you will need!