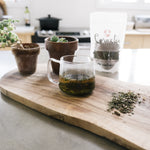 Cornelia Bean offers a number of healthy options for your New Year's resolutions as part of our Healthy You in 2016 Collection. Our ever popular Organic Detox Wellness, known as a "spa retreat in a cup", has competition with the Sweet Fern Tonic, a Canadian wildcrafted herbal cleansing blend, and the Peach Bellini Teatox, a tasty play on words, with Bamboo as its champion. I would also recommend our Rooibos Renewal, an organic greenbush tisane that's wonderful for its renewal properties. The aged green tea category know as Pu Erh also needs a mention here, as it's proven to be a solid blood cleanser and very effective for lowering cholesterol, and digestive relief. There are a number of effective herbs common in these herbal blends. Listed below are some of the herbs and their benefits.


Detox Wellness Organic
Relax and renew yourself with this cleansing blend, that not only tastes great but will leave you feeling great. A luscious, detoxifying herbal infusion highlighted by the clean notes of mint. A spa retreat in a cup. Peppermint, burdock root, dandelion leaf, liquorice root, red clover blossom.

Sweet Fern Tonic
Delicious daily tonic formulated to assist every major organ in the cleansing of toxins.  Detoxifies blood; Strengthens organs and immune system; Clears skin; Eases rheumatism. This delicious and healthy gentle tonic can be enjoyed daily. Sweet Fern Tonic is carefully formulated to assist every organ in the elimination of toxins. It helps clear lymph, blood and skin. Many health providers recommend our Sweet Fern Tonic for arthritis. Organic sweet fern, organic red clover, organic raspberry leaves, organic roots of burdock, organic echinacea, organic yellow dock, organic dandelion.

Peach Bellini Teatox
This is a bamboo tea which offers silica in a whole food form that can be absorbed better than any supplement. With the added fruit and herbs, it is an enjoyable treat. The tea contains soluble fibre that benefits the digestive system and is high in antioxidants promoting overall health and wellness.
Bamboo leaves, Melissa leaves, hibiscus, blackberry leaves, orange wedges, lemongrass, nettle leaves, marigold blossoms, peach bits, papaya bits, flavourings, pineapple bits , mango bits, and peppermint leaves.


Common detoxifying ingredients:

Liquorice: one of the most extensively researched medicinal and food plants. Studies on liquorice have demonstrated positive effects for treatment of various types of ulcers. Others showed that dietary consumption of liquorice root may help to lower cholesterol and act as an antioxidant.

Peppermint: the gastrointestinal tract is often relieved by peppermint as it relaxes the intestinal wall's muscles. As it increases saliva, swallowing increases and relieves cramps, improves appetite, and relieves pain from motion sickness, nausea, and irritable bowel syndrome. Peppermint is used orally in tea to relieve respiratory conditions including coughing, colds, acute respiratory difficulties, and viral, fungal, and bacterial infections.

Burdock Root: most all the parts of burdock herb have found a place in various traditional as well modern medicines. Burdock has been used in many folk remedies as one of the best blood purifiers. It contains certain diuretic principles, which help expel toxic products from the blood through urine.

Dandelion: almost all the parts of the dandelion herb found place in various traditional as well in modern medicine. Certain principle compounds in the herb have laxative and diuretic functions. The plant parts have been used as herbal remedy for liver and gall bladder complaints. Dandelion herb is also a good tonic, appetite stimulant and is a good remedy for dyspeptic complaints.

Red Clover: red clover is considered to be one of the richest sources of isoflavones, which are water-soluble chemicals that act like estrogens (known collectively as phytoestrogens). Red Clover is therefore used for hot flashes/flushes, PMS, as well as lowering cholesterol, improving urine production and improving circulation of the blood, to help prevent osteoporosis, reduce the possibility of blood clots and arterial plaques.

References:
1: http://www.nutrition-and-you.com/dandelion-herb.html
2: http://www.herbwisdom.com/herb-red-clover.html
3: http://www.nutrition-and-you.com/burdock-root.html
4: http://teamasters.org/healthy-delicious-refreshing-bamboo-leaf-tea/