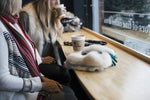 Got the winter blues? Don't wish winter away, go out and enjoy it. Winterpeg has so many things to keep you active and engaged this February, Find your passion and enjoy! From the magnificent ice sculptures at the Forks to the sculpting of the mammoth Festival du Voyegeur statues around the city, a treat to watch unfold. Restaurants in the city vie for your attention by offering Dine About Winnipeg with select menus at a reasonable price. There's ice skating at the Forks, and Assiniboine Park and of course down the Assiniboine/Red River, plus St. Vital and Kildonan Park duck ponds, just to name a few. Tobogganing is also available at these same locations. But what about tubing at Adrenaline Adventures or cross country skiing at Windsor Park? Downhill skiing is also available at Springhill Winter Sports Park, which is so close to the city and you can easily take that in in an evening. This is just a taste of what there is to do around Winnipeg.

After an exhilarating day out in the winter wonderland we call Winnipeg, come into Cornelia Bean and warm up with something warm and delicious. Bring a friend and stay in and we'll treat you to a buy one drink of your choice get one free. There really is no reason for you to feel cooped up this February. So take a friend and get out there!

There's nothing like sharing a cup of tea with your loved one. It evokes a feeling of calm and pleasantness. Cornelia Bean has some wonderful teas to enjoy during the month of February. We have a brand new Love Potion (Fruit Tea) for this month. Chocolate is always a luscious taste and we offer our very popular Chocolate Kisses Mint Black Tea, as well as Chocolate Mint Rooibos. Strawberry Champagne is a must for Valentines Day as well. Two for Tea is a brand new blend we are launching this month specially designed for moms with baby on board. There are many more you can find throughout the website, so please go ahead … enjoy yourself.

Here are just a few to keep you motivated:
Love Potion Fruit Tea
Strawberry Champagne Fruit Tea
Blueberry Pomegranate Green Tea
Chocolate Kisses Mint Black Tea
Chocolate Mint Rooibos
Chocolate Kisses Chilli Fruit Tea
Dark Chocolate Black Tea
Chocolate Dipped Strawberry Fruit Tea
Cherry Blaster Green Tea