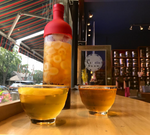 Summer is here! Those long, sunshine-filled days that remind us why we wait patiently all winter for their arrival. The air is warm, the flowers are blooming, school is out and everyone is happy and excited to spend every moment outdoors. Don't let this heat make you think that you must stop drinking tea or coffee though! Your rituals can continue because we have so many delicious ideas for iced drinks and beautiful housewares to serve it all in on your patio or picnic.
The Hario Filter in the Bottle is a perfect companion for summer because you can brew iced teas or make beautiful waters with it. With its fine-meshed strainer top, you can put it in any size of tea. We have a wide range of fruit teas that have all natural ingredients and no added sugars. Some of our favourite fruit teas are Tangerine Ginger, Dragonberry, Frosted Berries, Moody Manitoba, Pear Garden Black Currant, Victoria Beach and The Whiteshell. Check out our Iced Tea Blog for perfect steeping instructions. This lovely glass, wine shaped bottle can also be used with lemon slices, cucumber or fresh mint for a refreshing water. The Hario Cold Brew Coffee Carafe is perfect to make your own cold brew coffee. It's a glass carafe with a fine stainless steel filter, allowing for a delicious cold brew coffee. We recommend trying our light roast Kenya AA, it's perfectly suited for the cold brew method. When you're ready to serve your tea or coffee, we have lots of options for you. We are proud to carry beautiful and unique pottery from our very own local Mud and Stone studio. Handmade mugs, tea canisters, sugar and milk containers and platters will add a lovely touch to your patio or picnic. After you've made your iced tea or cold brew, you can take it to go in a Swell bottle, which will keep it cold for 24 hours and be stylish for the outdoors! 
While you're sipping on your iced tea or cold brewed coffee, we have a book recommendation for you this summer. If you've ever browsed through our Pu-erh tea section and wanted to learn more, we have a wonderful way to share the mysterious world of Pu-erh tea. The Tea Girl of Hummingbird Lane is a beautifully written story by Lisa See,  that is also an interesting way to learn more about the history and culture of Pu-erh tea. This book is a beautiful portrait of a region and people and paints a touching tale of mothers, daughters and families. After you've read it, we'd love to introduce you to our Pu-erh tea selections. ( The book is available at Cornelia Bean ).